This free online course shows you how to use some of Microsoft PowerPoint's advanced features. We take you beyond the ordinary features of the program to some of its more high-level capabilities that can make your presentations more engaging and lively. This course suits anyone who often meets clients or students and would like to captivate their audience with advanced presentation skills.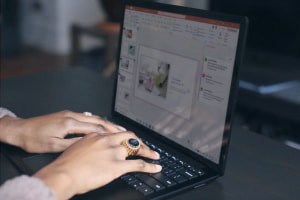 Durée

3-4 Heures

Accreditation

CPD
Description
Of all the productivity tools on the market, Microsoft Office Suite is among the most popular as it is dynamic, easy to learn and useful in almost every area of business and communication. The suite usually comes with a couple of programs, most commonly Word, Excel and PowerPoint. Many curriculum vitae (CVs) and resumes suggest that candidates are 'proficient' in PowerPoint but most people only know the program's basic functions and not as much as you would expect someone who is 'proficient' to know. This free online course helps you move past basic PowerPoint functions and keeps you abreast with its newer features, including those contained in the Microsoft 2019/365 suite. Skill use of PowerPoint offers you a great advantage on the job market because of its many uses and this course can help you become a power user of the program.
We begin with an overview of what to expect in the course before showing you how to customize PowerPoint 2016's user interface. We then explain how to work with multiple windows simultaneously and how to change the program's options to suit your needs. Do you know that you can modify slide masters and slide layouts in PowerPoint? The course explores such features and demonstrates how to create a custom slide layout, add headers and footers and modify the 'notes master' and 'handout master'. We then take you through the steps required to create and modify 'SmartArt' graphics or add and write maths equations. You will learn how to perform some media and animation functions such as adding audio and video to a presentation, setting video playback options and customizing animations and transitions. Do you know that you can collaborate, add and manage comments on a presentation? This course demonstrates the use of these interesting functions. We conclude by teaching you how to secure and distribute your presentations and examine some exciting new features exclusive to PowerPoint 365.
Microsoft PowerPoint is a great communication tool that can be used to win over prospective clients and keep students riveted. It is very useful if you are looking to create a visual depiction of abstract ideas or want to explain how well your product performs, providing a boost to business executives seeking investors. Do you want to learn a valuable new skill? This course can take you from being a mere user of PowerPoint to becoming an expert so sign up to master its advanced features and become truly 'proficient'.
Démarrer le cours maintenant