Mobile and Web Development using Ionic
Learn to use the Ionic framework to develop websites and apps for Android and iOS devices, in this free online course
Publisher:

Sonar Systems
This free online course will teach you how to develop websites, and mobile applications, using the cross-platform development framework; Ionic. You will learn the process of setting up Ionic, as well as testing and debugging applications across platforms. You will also learn about various styling elements like lists, toggles, and sliders, that can be added to your application or webpage, and how the Ionic framework is used to add them.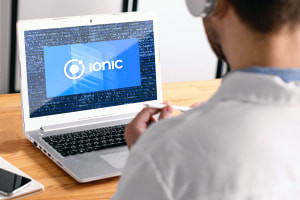 Duración

1.5-3 Horas

Accreditation

CPD
Description
This free, online will teach you all you need to know to get started with developing websites and mobile applications with the Ionic framework. It begins with tutorials on how to set up Ionic, as well as the developer environment for using the framework. It also goes on to demonstrate the process of testing and debugging applications across different platforms. The first half of the course concludes with tutorials on how to add styling elements like Headers, Footers, Buttons, and Lists, using the ionic framework.
The Second half of the course goes further to introduce some more styling components, as well as explain how these components could be added to a webpage, or mobile application, using Ionic. Styling components covered in this part of the course include Cards, Forms, Toggles, Checkboxes, Radio Buttons, Sliders, Dropdowns, and Tabs. The course with an introduction to the Ionic Grid System, and how it is utilized in designing responsive webpages and mobile applications.
Being a cross-platform, and web-based framework, Ionic provides web developers with a platform for creating highly functional web and mobile applications, that leverage their existing knowledge of web development. This course is well suited to web developers with some knowledge of web design using HTML, as well as JavaScript and CSS. Start this course now, and be on your way to building very functional, responsive, and visually pleasing applications for various platforms, using the Ionic framework; in under 3 hours.
Inicio Curso Ahora