Diagnose Basic Car Electrical Problems Using Wiring Diagrams
Learn how to diagnose and isolate your vehicle's electrical faults in this free online automotive electronics course.
Publisher:

Steven Liguori
This course provides an excellent foundation for diagnosing electrical issues on your car or truck. Each lesson builds on your knowledge of circuits and rules, demystifying automotive electrical schematic diagrams and going on to establish a foolproof process for quick and accurate diagnosis of electrical faults. Enrol now to gain a solid understanding of how to Diagnose Basic Car Electrical Problems Using Wiring Diagrams.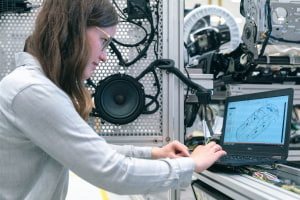 Duración

1.5-3 Horas

Accreditation

CPD
Description
Do you know what causes electrical problems in cars? How would you like to be able to understand and diagnose car wiring issues in your car yourself? In this electronics course, Automotive Service Excellence (ASE) master technician and instructor Steven Liguori teaches beginners the basics of automotive electrical wiring diagrams and schematics. The course aims to empower students to troubleshoot their own vehicle's electrical problems - or to narrow down the possible causes of a fault to be able to recognize if their service center is honest and competent.
This course explains the foundational material necessary to understand basic electrical circuits and diagrams. The questions 'What every circuit needs' and 'what can go wrong' are illustrated in a way that makes students wonder why they struggled with electrical in the past. A detective-like, process of elimination approach to auto electrical diagnosis is explained in depth and is described so you can take what is learned and apply it to any wiring diagram. By practising the process taught in this course, and applying it to your car, you will gain confidence and proficiency.
Liguori has educated thousands of students over the years and has found a way to cut to the chase and provide large amounts of information and understanding in a small amount of time. Clear explanations and simple animations are easy to grasp, and help solidify the student's comprehension of the concepts. Spend a few hours learning, reviewing, and practicing the principles in this course and you will be well on your way to the basic auto electrical understanding you desire. Enrol now to begin.
Inicio Curso Ahora