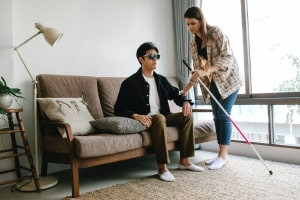 Comprender la asistencia social
-
Learners already enrolled
This Free Online Course Includes:
Hours of Learning
CPD Accreditation
Final Assessment
Start Course Now
COURSE PUBLISHER
Published by
-
Comprender la asistencia social
Dominar lo esencial de brindar apoyo a los vulnerables dentro de tu sociedad en este curso online gratuito.
"Asistencia social" se refiere a una amplia gama de actividades desde la protección ...
"Asistencia social" se refiere a una amplia gama de actividades desde la protección de los niños hasta la atención al final de la vida de los adultos. En su núcleo, la asistencia social implica prestar atención y apoyo a los miembros más vulnerables de la sociedad, como los ancianos, los niños, los discapacitados o los discapacitados mentales. Al tomar este curso, usted obtendrá una rica comprensión de la naturaleza del trabajo de cuidado social, incluyendo los deberes, la conducta y los requisitos legales de un trabajador del cuidado.
Read More
In This Free Course, You Will Learn How To
View All Learning Outcomes
View Less
Complete This CPD Accredited Course & Get Your
Certificate

!
Certify Your Skills

A CPD accredited Alison Diploma/Certificate certifies the skills you've learned

Stand Out From The Crowd

Add your Alison Certification to your resumé and stay ahead of the competition

Advance in Your Career

Share your Alison Certification with potential employers to show off your skills and capabilities
Learner Reviews & Feedback For Comprender la asistencia social
View More Reviews
Back to course information
About Your Alison Course Publisher
- Alison Stats
- Alison Stats
- Learners
- Courses
- Learners Have Benefited From Their Courses
Read More
More Free Online Courses by This Publisher
Learners Who Took This Course Also Enrolled In
Frequently Asked Questions
What is the main role of social care?
What are the key responsibilities of a social care worker?
What is the best social care course to take?