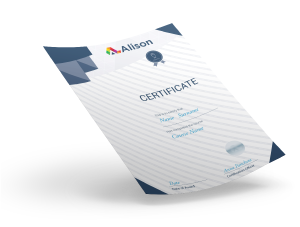 Your Alison Certificate is formal recognition of your learning. Once you become an Alison Graduate you can choose to purchase your officially branded and security marked Certificate. Alison Certificates can be co-branded. We offer a tailored solution where certificates may be purchased in bulk, in advance at a discounted rate.
Choose from either a Digital Certificate or a Printed Certificate.
Printed Certificates have a framed option.
Alison offer the opportunity to pre-pay for physical Certificates which encourages:
Learner completion rates
Provides a sense of achievement
The opportunity to have a presentation ceremony
The learner can access their Certificate by redeeming a voucher, which is produced when the company/organisation pre-pay on their behalf.
Bulk Purchasing of Alison Certificates
Where your organisation is a large volume purchaser of Alison certification services, we are happy to arrange a volume discount with your organisation directly.
Volumes for Certificates must be over 250 Certificates within a one year period. We require an upfront percentage payment.

Alison API (Application Programming Interface)
An Alison API connection seamlessly links your website/internal system to the Alison suite of courses with a single sign on. We can work with you to format reports that facilitate your needs.

Pre-paid Certification
We offer you the option to pre-pay in bulk for Alison certificates for your graduates at a discounted rate.
Need more information?
Please contact our Enterprise Sales Team