Employee Reward Schemes
Learn about the approaches to rewarding special groups with this free online employee reward schemes training course.
Publisher:

NPTEL
This free online course on employee reward schemes gives you some great insights into the concept of rewarding special groups including, senior executives, customer service staff, and manual workers. Learn about employee benefits, pension schemes, and the 7th pay commission in India. By the end of this course, you will be better equipped and ready to create effective reward systems for organizations. These are great skills, so get started, today!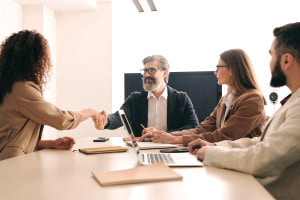 Durata

3-4 Oras

Accreditation

CPD
Description
Employee Reward Schemes' is a free online training course that begins by introducing you to the significance of rewarding directors and executives. You will learn about the concept of executive pay levels as well as the factors affecting the level and nature of executive rewards. You will also be familiar with the elements of directors and senior executives' remuneration. You will be able to explain the concept and importance of corporate governance.
The course then explains the various approaches to rewarding sales representatives and customer service staff along with the merits and demerits of these methods. You will gain an understanding of what workers really do as well as some appropriate reward schemes for them. Next, you will learn about the 6th and 7th Pay Commission in India along with their differences.
Furthermore, you will get familiar with the post-retirement stages of an employee as well as the relationship of an employee with the organization after retirement. You will learn about retirement benefits and other important terms as provided by the Pensioners Portal, Government of India. You will be able to explain the related entities in the New Pension Scheme. This free online course will be of great interest to students, researchers, and anyone with an interest in organizational management. So, register for this course and start your next learning journey today.
Inizio Corso Ora