Progettazione Thinking - Generazione Idee, Storie e Prototipi - Revised
Il corso Design Thinking - Generazione Idee, Storie e Prototipi indagherà sulle tecniche di generazione delle idee e il loro sviluppo in prodotti.
Business
Gratuito
This free online Design Thinking - Generating Ideas, Stories, and Prototype course will teach you how professional products are built from ideas, and how ideas themselves can be productively generated. You will also learn how to create storyboards, derive new concepts, and prototype your designs professionally. These are essential skills for any professional with creative responsibilities, and you can gain them today, for free.
Take this certificate on your own.
Start now and learn at your own pace.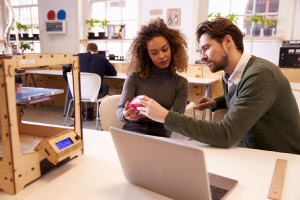 Description
Si indagherà sull'approccio di storyraccontare al design. Si imparerà a creare magazzini e a imparare come le schede possono aiutarti con il processo di progettazione. Vi intromettete alla prototipizzazione, a cosa è e a come vi aiuta nella vostra progettazione e si impara a capire quanto possa essere utile la prototipizzazione di carta nel processo di progettazione.
Questo corso sarà di grande interesse per chi lavora nelle aree del design di prodotti e servizi e che vorrebbe migliorare la generazione di idee, storie e prototipi come parte del loro processo di progettazione. Prerequisiti: Il discente avrebbe dovuto completare i corsi precedenti in 'Introduzione al Design Thinking e People Cinto Design' e 'Design Thinking - Design Research and Analysis'.
Start Course Now
h