Body Language - Understanding Body Movements
In questo corso gratuito online, imparate i gesti essenziali nell'intesa di Corpo Movimento.
Publisher:

NPTEL
In questo corso gratuito online, imparate i gesti e i segnali che sono essenziali nell'intesa di Corpo Movimento. Imparate i diversi gesti di valutazione che sono veicati dalla bocca e da altri movimenti del corpo. Imparerai anche i diversi tipi di sorrisi e ciò che trasmettono nella comunicazione non verbale. Boost your Body Language and Body Movement knowledge and skills studiando questo corso completo.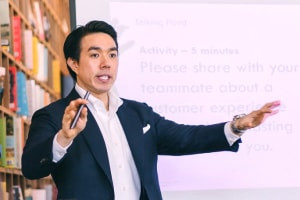 Durata

1.5-3 Oras

Accreditation

CPD
Description
In questo corso gratuito online, vengono introdotti al mondo dei Movimenti Corpo. Esplorerai i diversi 'Tipi di sorrisi', così come il concetto di &ld'XX_ENCODE_CASE_CAPS_LOCK_On ideale impatto di una Nazione e l'uso del silenzio nelle diverse culture. Le dimostrazioni, gli esempi e le domande di valutazione in questo corso videoludico guidato da istruttore, sono progettati per fornirti una fondazione completa, che ti permetterà di fare seri passi in questa carriera.
Il corso inizia introducendo il 'Ruolo della Rocca' nella comunicazione nonverbale. Poi si discuterà il concetto di differenze culturali incrociate, che descrive come l'uso dei sorrisi in varie culture sia interpretato in modo diverso e come questo possa portare a una confusione di intenzioni ed emozioni. Esplorerai il gesto del pollice - up, comunemente usato in molte culture per significare un lavoro ben fatto.
Avanti, imparerai i comuni 'Tipi di sorrisi' e la loro analisi. Guadagnerai intuito nel ruolo di 'Head Nodding ' nel processo di comunicazione, e scoprirete l'importanza di capire Body Movements. Infine, studierai Hand Movimenti, Finger Movimenti e il Movimento di Feet e Legs. Questo corso interesserà gli studenti di Scienze Sociali, o quei professionisti in ambito di gestione, comunicazione o risorse umane. Perché aspettare? Inizia questo corso oggi!
Inizio Corso Ora