Nuances of Reciting English Alphabets K to O using Thai and Russian
Learn how to make your English pronunciation transform more efficiently and confidently in this free online course.
Publisher:

Teacher Vlad
The ability to perceive, perceive about, and work with independent tones in spoken words is known as phonemic awareness. The association between the alphabets of written communication and the sounds of the verbal language is called phonics. This course includes visuals, audio, reading, and writing exercises to help you develop these two vital skills and become a fluent reader and speller of the English alphabetic system.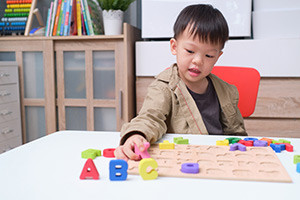 Durata

1.5-3 Oras

Accreditation

CPD
Description
Letter recognition is a core component of learning to read. Letter recognition, or the ability to delineate between letters and their shapes, should be taught before or alongside letter sounds. This course will help you bridge the gap between phonemic awareness and letter recognition to other phonics skills. You will explore letters, sounds and words and start to recognize the letters of the English alphabet, both majuscule and small and their specific sounds in words. Further, we will highlight the ways of matching letters with their sounds and words to their phonetic transcriptions.
Just after that, you'll gain knowledge about the letter K and its various sounds in words such as kite, kiss, knee, and knight. Then, you'll learn to read and write the letter L and new terms such as leg, lake, lemon. The distinctions between 'this' and 'these' are detailed next. You will also find out the name and sound of the letter M in words like melon, monkey, man, milk, and correctly use the demonstrative pronouns this, that, these, and those. Continuing to follow that, you will view images and listen to the letter N before writing texts that incorporate it.
Finally, the course introduces the letter O and its different sounds in one, orange, nose and house, and how it is pronounced double o in book and blood. You'll also learn about adding an ending -s or -es to the verbs when the verb's subject is He, She or It. The course provides a chart of phonetic symbols for transcribing English sounds, as well as a variety of exercises such as listening and repeating after the speaker, listening and writing English words and sentences, writing words with the letters K, L, M, N or O at the beginning, in the middle or at the end and translating them into your native language and English. Achieve better English pronunciation and feel more enthusiastic when speaking or writing English.
Inizio Corso Ora