English Grammar - Pronouns & Determiners (Intermediate level)
Learn how to use English pronouns and determiners in this free online intermediate level English grammar course.
Publisher:

Advance Learning
This English grammar course explores the use of pronouns and determiners. If you are already studying English, you might know that pronouns can take the place of nouns to make sentences easier to read and can do everything that nouns can do. We study such pronouns (including reflexive pronouns) and explain their correct usage before delving into determiners like 'the' and 'that'. This English speaking course helps you master the language.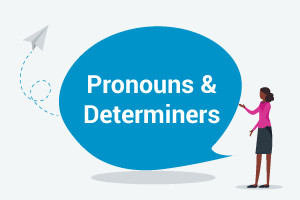 Durata

1.5-3 Oras

Accreditation

CPD
Description
This English grammar course introduces you to reflexive pronouns 'myself' and 'ourselves'. Sometimes reflexive pronouns are not strictly necessary and we explain how you can sometimes use other more elegant phrases to take their place. We also examine words like 'own' and 'self' to establish how they can be used in different ways but mean the same thing. We study 'there' and 'it' to illustrate how to combine them with modal verbs (like 'will' and 'must' in order to provide extra information.
The course then shows you how to use 'some' and 'any' to discuss quantity. We compare the use of 'some' for positives and 'any' for negatives. We then teach you how to properly combine 'without' and 'any' and examine the similarities between 'anybody', 'nobody' and 'anyone'. We wrap up by laying out the proper uses of 'somebody' and 'someone' and breaking down the differences between 'both', 'either' and 'neither'.
This intermediate level grammar course is designed to be easy to understand and follow. We can boost your confidence when speaking English and our audio recordings can help you refine your English accent, pronunciation and listening skills. Studying the different uses of determiners and pronouns in place of nouns will make your sentences sound more elegant. Sign up today to enhance your English grammar skills as you become more articulate in this global language.
Inizio Corso Ora