Creating Quality Thumbnails Using CorelDRAW
This free online course illustrates the techniques for creating great thumbnails for various platforms using CorelDraw.
Publisher:

Lily Lu
Are you a creative or an artist interested in creating good thumbnails for various platforms? Sign up for this course on Creating Quality Thumbnails Using CorelDRAW to learn new techniques for creating thumbnails using CorelDRAW. CorelDRAW is accomplished by using a variety of tools found in the toolbox. This course will teach you when and how to use each tool. You will also be taken through the best fonts and frames to use for your thumbnails.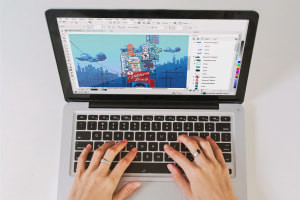 Durata

4-5 Oras

Accreditation

CPD
Description
Creating Quality Thumbnails Using CorelDRAW is a free online course that illustrates various techniques of creating great thumbnails for your graphic needs. It is specifically designed for art teachers, creative minds, content creators and students to cover thumbnail concepts. Teachers and experienced users that enrol in this free online course will be able to refresh their knowledge with improved CorelDRAW content. Students will gain exposure to key elements for creating quality thumbnails. They will also learn about different solutions to problems on thumbnail creation requiring both contrast and lighting edits. A thumbnail is a small image representation of a larger image. In this course, you will learn about the features of good thumbnails. It is the first impression of the product we get from the product preview that influences our decision to buy or not. This course further outlines the advantages of thumbnails. You will require aspects of this course to begin creating quality thumbnails for Facebook, YouTube and other platforms. A combined understanding of these concepts will improve your chances of passing your art exams as a student. It also provides teachers and tutors with a modern outlook into how the creation of thumbnails are taught.
Depending on your photo editing expertise, creating custom thumbnails can either be quick and simple or quite complex. It sometimes can be a struggle choosing the right format and template for your thumbnail alongside the appropriate types of pictures to choose while working with thumbnails. This course covers in detail the major difference between vectors and JPEGs. Have you tried to resize JPEGs and vectors respectively? The ability to enlarge without distortion is a huge benefit. Though vector graphics are not perfect, there have some advantages over JPEGs.  You will learn about resizing pictures and editing pictures by pushing up the contrast. You will also learn how to choose layout frames, use intersect tools as well as mirror images in ways that allow spaces for time stamps and fonts on thumbnails. Your goal is to create a clear thumbnail image that stands out. This course will help you achieve that by taking you through the use of some image-editing tricks like drop shadows.
It is important that you know the difference and use the right kind of font along with modes during your design creation process. CorelDRAW contains pattern fills, texture fills, curve tools amongst others that make it easy to manipulate thumbnails. This course discusses the most appropriate ways to name and save thumbnails for the purpose of search engine optimization (SEO). This will enable intending users to easily find your thumbnail amongst others on the internet. The sections that follow cover in detail how to export the thumbnail to JPEG and create separate vectors while using them to assemble the font into thumbnails. Upon successful completion of the required modules, your interest in new techniques for creating thumbnails with the use of CorelDRAW should be increased. You will also be conversant with CorelDRAW along with its functions. What are you waiting for? Start your learning journey into the creative world today!
Inizio Corso Ora