The 5S System - Lean Methodology on Workplace Optimization and Housekeeping
Learn how to use 'lean' methods to optimize your workplace in this free online course that covers the '5S' of Kaizen.
Publisher:

S. M. Waqas Imam
This training course teaches you how to apply 'lean' methodology to affect workplace optimization and housekeeping. The '5S' is based on five Japanese words beginning with the letter 'S': 'sort', 'set in order', 'shine', 'standardize' and 'sustain'. They can be applied to make workplace processes run more effectively and efficiently. We study the history of the '5 Ss', their importance in the workplace, the guidelines for their use and more.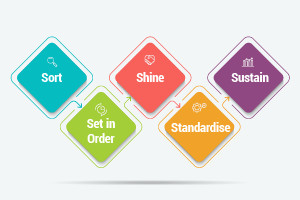 Durée

1.5-3 Heures

Accreditation

CPD
Description
The '5S' system is part of the Japanese 'lean' methodology of Kaizen, which is used to organize workplaces to make them more efficient, effective and safe. We explain how the '5S' system can be used to help streamline professional processes and boost production in offices and manufacturing environments.
The '5S' system uses the following five Japanese words: 'seiri' (sort), 'seiton' (set in order), 'seisō' (shine), 'seiketsu' (standardization) and 'shitsuke' (sustain). It draws on the ideas under each letter to inspire a more constructive organizational culture. The course explores the history of Kaizen and the '5S' and investigates the implementation of similar housekeeping concepts across various industries. 
We then establish the importance and benefits of implementing this initiative. We lay out important preparation guidelines for implementing a '5S' system, which includes the '5S' project plan, training and other concerns that should be taken into consideration. Almost every organization can trim the fat and find ways to operate more smoothly and productively, so sign up to add these valuable '5S' skills to your portfolio, particularly if you want to take a management track.
Démarrer le cours maintenant