ISO 50001:2018 - Elements of Energy Management System (EnMS)
Learn how to meet the requirements of the latest ISO 50001:2018 (EnMS) Standard with this free online ISO 50001 course.
Publisher:

S. M. Waqas Imam
This free online ISO 50001 certification training course teaches the fundamental elements of Energy Management Systems (EnMS). You will study the latest ISO 50001 standard including its regulation and look into the relation of ISO 140001:2015 with ISO 50001:2018. You will learn how companies can manage their energy performance and energy management system as well as why energy management and optimization is the challenge of the new century.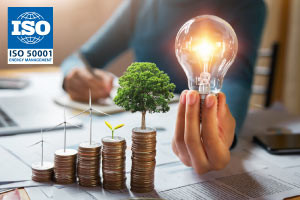 Durée

1.5-3 Heures

Accreditation

CPD
Description
ISO 50001:2018 is the second edition of ISO 50001 standard, and it is titled "Energy management systems — Requirements with guidance for use". The updated standard explains the requirements for an energy management system (EnMS) where an organization can demonstrate its capability to manage its energy performance and improve its Energy management system so that the organization can fulfil its business goals and relevant regulatory requirements consistently. ISO 50001:2018 can also be utilized by organizations such as vendors or external parties who offer services or products, to big corporate organizations. So it is applicable to all types of organizations.
This course begins by covering the context of the publication of this ISO standard, and reviews the various existing philosophies related to Energy management such as Building Energy Management System, Energy Measuring and Information system and their differences with Energy Management System (EnMS) itself. Then the course highlights important terminology which is grouped under different headings to help students understand the concepts easily. The course explains all the requirements of ISO 50001 including specific requirements of the energy management system, leadership responsibilities along with resource management, requirements of system realization such as Context of Organization, EnMS planning, support functions, Operations, facilities and equipment design for EnMS, procurement controls for EnMS etc. The course also covers the Clause - 9 and Clause - 10 of ISO 50001 standard as a separate module that explains all about measurement, monitoring, analysis, evaluation and improvement.
If you're interested working in the energy sector as a future career, or if you're an ISO professional seeking to keep up to date with the latest ISO 50001 standard, then this clear and simple course is for you. Understanding ISO 50001:2018 is of vital importance for all professionals working in the compliance as well as energy sector. So, start this free online course today and in just 3 hours you'll be up to date with the new changes in this important ISO standard.
Démarrer le cours maintenant