Drawing Anime Character – Body, Hands, Legs & Clothes
Study the techniques for drawing highly detailed body features for anime characters in this free online design course.
Publisher:

Manar Ali
Flex your creative skills and enrol in this free online graphic design course that will teach you tips, tricks, and proven techniques to draw highly detailed anime characters' body features and even their clothes and shoes. You will learn to draw the body outline for different character types, in different positions – like sitting and standing, as well as the intricate details of palms, hands, feet, shirts, sweaters, skirts, shorts, and trousers.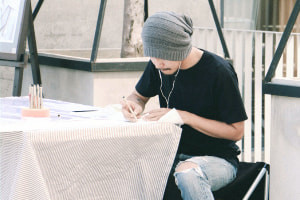 Durée

1.5-3 Heures

Accreditation

CPD
Description
This graphic design certificate will teach you everything you need to draw anime characters and begins with an introduction to the body sizes for characters of different age groups – children, infants, teens, and adults. It goes on to explain how body outlines for characters of each group can be easily drawn, in accordance with the laid down body sizes. This is followed by demonstrations of how to draw male and female characters' bodies in different positions.
The second half of the graphic design class kicks off by showing you how to design detailed illustrations of the palm of a character, as well as a demonstration of how the hand of a male character could be drawn in different positions and when viewed from different angles. This part of the course goes on to explain techniques for drawing the foot of a character, and drawing methods for shoes, skirts, sweaters, shorts, and trousers.
This free graphic design course will broaden your design skills and you can apply these not only to anime, but in many different design projects as well.  If you are new or experienced with drawing, searching for a fun pastime, or an anime fan looking to learn to draw the characters (and of course create your own), this course is a great outlet for your creativity but also detailed enough to add technical proficiency to your animated character drawing skills. Enrolling in this course will take you a mere three hours from start to finish and you will have some great drawings to show for it at the end.
Démarrer le cours maintenant