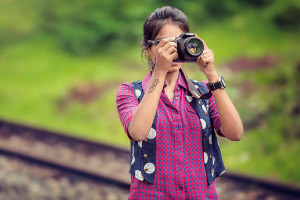 Photographie numérique avancée
-
Learners already enrolled
This Free Online Course Includes:
Hours of Learning
CPD Accreditation
Final Assessment
Start Course Now
COURSE PUBLISHER
Published by
-
Photographie numérique avancée
Apprenez à contrôler les paramètres d'exposition de votre appareil photo, ajoutez des filtres et rehaussera les images avec ce cours de photographie numérique.
Ce cours gratuit de photographie numérique en ligne vous enseigne les aspects essent...
Ce cours gratuit de photographie numérique en ligne vous enseigne les aspects essentiels de la photographie, tels que la billetterie, la photographie flash, la distance hyperfocale, la distance focale et la perspective. Les meilleures photographies sont prises avec une compréhension claire de quelques concepts et techniques photographiques de base. Ce cours, avec l'aide d'exemples pratiques, de diagrammes et d'histogrammes qui vous apprennent à bien exposer une photographie, et bien plus encore.
Read More
In This Free Course, You Will Learn How To
View All Learning Outcomes
View Less
Complete This CPD Accredited Course & Get Your
Certificate

!
Certify Your Skills

A CPD accredited Alison Diploma/Certificate certifies the skills you've learned

Stand Out From The Crowd

Add your Alison Certification to your resumé and stay ahead of the competition

Advance in Your Career

Share your Alison Certification with potential employers to show off your skills and capabilities
Learner Reviews & Feedback For Photographie numérique avancée
View More Reviews
Back to course information
About Your Alison Course Publisher
- Alison Stats
- Alison Stats
- Learners
- Courses
- Learners Have Benefited From Their Courses
Read More
More Free Online Courses by This Publisher
Learners Who Took This Course Also Enrolled In
Frequently Asked Questions
What is digital photography?
What are the best free online digital photography courses?
How much does an online digital photography course cost?