A Comprehensive Guide to Google Slides
Learn how to use Google Slides to create and deliver professional presentations in this free online course.
Publisher:

JM Ekhteyari
Did you know that Google provides a package of professional office tools, one of which is Google Slides? Google Slides is a free online presentation tool that enables you to create online and offline presentations. Allow this course to walk you through the entire presentation process and teach you how to utilize professional features such as format slides, change text and insert images and videos to create stunning slideshows.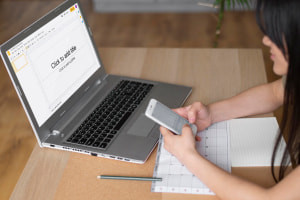 Durée

3-4 Heures

Accreditation

CPD
Description
Google Slides is an online and offline platform that runs on computers, mobile devices and tablets. It allows you to store your presentations in the Google cloud and access them from anywhere, giving you the ability to rehearse them right up to the last moment. This course covers the fundamentals of Google Slides and helps you create a presentation from scratch with simple slides and convert them into sophisticated products. We begin with an overview of the Google Slides app, including its functions and benefits. You'll discover the main menu and search bar accessible from the home page, which allows you to search for everything. You will then learn to construct a new slide, either blank or from a template, by clicking the blank template icon. Explore the tools and menu options like the 'Share' and 'Present' tab used for sharing and displaying slides with others. Finally, we will discuss the various features for adding backgrounds, transitions, text boxes and insert links.
The course continues by presenting the 'File' tab, which has all the basics for sharing, publishing to the web or printing your slides. After that, you'll find out about the 'Edit' tab and its options 'Undo', 'Redo', 'Copy' and 'Paste' options and the 'View' tab used to adjust screen layout, open the animation and transition pan or add guiding lines to your presentation. The 'Insert' tab explores the capabilities of adding text, shapes, images, videos, speaker notes, tables and more to your slides. In the 'Format' tab, you'll discover the tools for customizing your slide text and tables. The 'Slide' tab helps apply a layout or alter the background and the 'Arrange' option organizes and positions objects.
Next, the course illustrates how to make a slideshow in practice. You will learn to design incredible 'Ted Talk' slides by merging photos, text, various backdrops, shapes and tables. Finally, you will understand how to make your presentations appear spectacular by first developing everything on paper, adding sentiment to your creations and designing them to convey your impactful tale. Google Slides is free, simple to use and widely available. Make sure you have a Google account and a suitable internet connection and you are all set to go!
Démarrer le cours maintenant