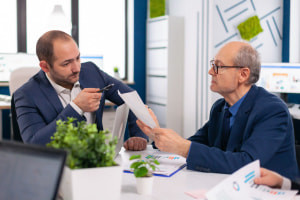 Gestione degli impianti
-
Learners already enrolled
This Free Online Course Includes:
Hours of Learning
CPD Accreditation
Final Assessment
Start Course Now
COURSE PUBLISHER
Published by
-
Gestione degli impianti
Master le competenze chiave necessarie per intraprendere una carriera di successo come gestore di strutture in questo corso gratuito online.
Questo corso online è un'ottima scelta per gli individui interessati al settore dell...
Questo corso online è un'ottima scelta per gli individui interessati al settore della gestione delle strutture. Questo corso sarà utile se si è un professionista di gestione delle strutture esistenti o si cerca di esplorarlo come opzione di carriera. I nostri dieci argomenti degenti e interattivi consegneranno tutte le competenze, le conoscenze e le informazioni necessarie per far kick-start your learning e diventare un manager di strutture efficaci e altamente qualificati.
Read More
In This Free Course, You Will Learn How To
View All Learning Outcomes
View Less
Complete This CPD Accredited Course & Get Your
Certificate

!
Certify Your Skills

A CPD accredited Alison Diploma/Certificate certifies the skills you've learned

Stand Out From The Crowd

Add your Alison Certification to your resumé and stay ahead of the competition

Advance in Your Career

Share your Alison Certification with potential employers to show off your skills and capabilities
Learner Reviews & Feedback For Gestione degli impianti
View More Reviews
Back to course information
About Your Alison Course Publisher
- Alison Stats
- Alison Stats
- Learners
- Courses
- Learners Have Benefited From Their Courses
Read More
More Free Online Courses by This Publisher
Learners Who Took This Course Also Enrolled In
Frequently Asked Questions
How do I get into facility management?
What skills are needed to succeed in facilities management?
What's the best course for facilities management?