Fundamentals of Power Query
Learn how to extract and transform data using Power Query for Microsoft Excel with this free online course.
Publisher:

Jordan Goldmeier
Power Query is a free add-in tool in Microsoft Excel 2010 and 2013 for Windows, and it has been fully integrated into the 2016 version too. This free online Microsoft Excel tutorial focuses on Power Query's core functions, like data extraction, transformation, and reshaping. You will discover new ways to process data by learning how to connect multiple data sources and perform transformations within the data before creating reports.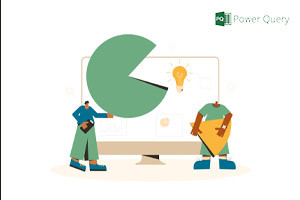 Durata

1.5-3 Oras

Accreditation

CPD
Description
Are you tired of spending all day sorting through a huge number of worksheets to organize a significant amount of data? Would you prefer a superpower to make your job easier? You are in the right place if you have said yes to these two questions. This advanced Microsoft Excel course takes you through how Power Query, like Power Pivot and Power View, is part of the Power BI Suite. It begins by explaining the data manipulation techniques and the methods of fixing specific problems in the query table, such as changing the headers' names, filtering out null values, condensing three columns into one, removing a column, and saving the new file.
The next section of this Power BI training discusses the concept of M code and many Power Query features with their functionality, including Choose Column, Keep Rows, Remove Alternate Rows, Split Column, Merge Queries, Transform, Move, Format and others. Efficiency is crucial when working with large amounts of complex data and using some shorthand tips and codes included in the course instead of the usual tabs will allow you to speed up your work. Continuing with the efficiency theme, you will be taught how to quickly and easily know which functions to use without writing any code by using the Column from Example feature and the steps to give feedback to Microsoft about a range of topics.
The final part of the Power BI certification explains the details of merging data from multiple tables with different formats into a single sheet. The course discusses different files from external sources and how to import them into Power Query. Your learning concludes by comprehensively covering the procedure for constructing a relationship between two tables so that you can look up data and get matching results as well as how to combine multiple data from the same folder. This Power BI tutorial is perfect for anyone working with large sets of data in data science, data analytics or engineering and need to combine, interpret or process the data in different ways. What would usually take hours to do manually will take you no time by unlocking the features of Power BI's Power Query function. Enrol in this in-depth course and discover the many dynamic data transformation tools in one convenient location.
Inizio Corso Ora