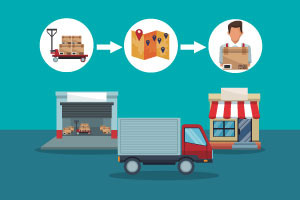 Comprendere Supply Chain Ecosistemi
-
Learners already enrolled
This Free Online Course Includes:
Hours of Learning
CPD Accreditation
Final Assessment
Start Course Now
COURSE PUBLISHER
Published by
-
Comprendere Supply Chain Ecosistemi
Scopri gli aspetti chiave degli ecosistemi di supply chain per aiutarti a gestire in modo efficace la tua organizzazione e competere a livello globale.
Con questo corso gratuito di Supply Chain Ecosistemi, si analizzerà la rete di organ...
Con questo corso gratuito di Supply Chain Ecosistemi, si analizzerà la rete di organizzazioni, persone, attività, informazioni e risorse che sono coinvolte nello spostamento di un prodotto o servizio dai fornitori ai clienti. Imparerai come le moderne catene di fornitura si sono evoluti in reti internazionali complesse oltre a come portano benefici economici e sociali per migliorare il tenore di vita per milioni.
Read More
In This Free Course, You Will Learn How To
View All Learning Outcomes
View Less
Complete This CPD Accredited Course & Get Your
Certificate

!
Certify Your Skills

A CPD accredited Alison Diploma/Certificate certifies the skills you've learned

Stand Out From The Crowd

Add your Alison Certification to your resumé and stay ahead of the competition

Advance in Your Career

Share your Alison Certification with potential employers to show off your skills and capabilities
Learner Reviews & Feedback For Comprendere Supply Chain Ecosistemi
View More Reviews
Back to course information
About Your Alison Course Publisher
- Alison Stats
- Alison Stats
- Learners
- Courses
- Learners Have Benefited From Their Courses
Read More
More Free Online Courses by This Publisher
Learners Who Took This Course Also Enrolled In
Frequently Asked Questions
What is a supply chain ecosystem?
What are the benefits of taking a supply chain ecosystem course offered by Alison?
How much does an online supply chain ecosystem course cost?