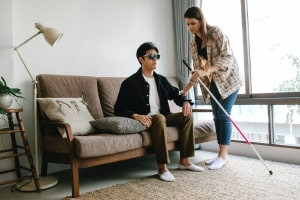 Comprendere il Social Care
-
Learners already enrolled
This Free Online Course Includes:
Hours of Learning
CPD Accreditation
Final Assessment
Start Course Now
COURSE PUBLISHER
Published by
-
Comprendere il Social Care
Master l'essenzialità di fornire supporto ai soggetti vulnerabili all'interno della vostra società in questo corso gratuito online.
"Assistenza sociale" si riferisce ad una vasta gamma di attività dalla protezione de...
"Assistenza sociale" si riferisce ad una vasta gamma di attività dalla protezione del bambino alla cura di fine vita per gli adulti. Al suo nucleo, l'assistenza sociale comporta l'assistenza e il supporto ai membri più vulnerabili della società come gli anziani, i bambini, i disabili o i mentalmente contestati. Effettuando questo corso, si acquisirà una ricca comprensione della natura del lavoro di assistenza sociale, compresi i doveri, la condotta e i requisiti legali di un lavoratore sanitario.
Read More
In This Free Course, You Will Learn How To
View All Learning Outcomes
View Less
Complete This CPD Accredited Course & Get Your
Certificate

!
Certify Your Skills

A CPD accredited Alison Diploma/Certificate certifies the skills you've learned

Stand Out From The Crowd

Add your Alison Certification to your resumé and stay ahead of the competition

Advance in Your Career

Share your Alison Certification with potential employers to show off your skills and capabilities
Learner Reviews & Feedback For Comprendere il Social Care
View More Reviews
Back to course information
About Your Alison Course Publisher
- Alison Stats
- Alison Stats
- Learners
- Courses
- Learners Have Benefited From Their Courses
Read More
More Free Online Courses by This Publisher
Learners Who Took This Course Also Enrolled In
Frequently Asked Questions
What is the main role of social care?
What are the key responsibilities of a social care worker?
What is the best social care course to take?