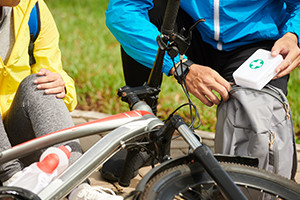 Primo Aiuto per lo sport
-
Learners already enrolled
This Free Online Course Includes:
Hours of Learning
CPD Accreditation
Final Assessment
Start Course Now
COURSE PUBLISHER
Published by
-
Primo Aiuto per lo sport
Questo corso gratuito online fornisce tutte le conoscenze necessarie per eseguire il primo soccorso per le lesioni sportive.
Una squadra di assistenza sanitaria atletica di successo deve affidarsi alla collabor...
Una squadra di assistenza sanitaria atletica di successo deve affidarsi alla collaborazione e alla preparazione. Questo corso affronta i concetti essenziali e i principi di primo soccorso nello sport. Inoltre, sarà possibile valutare l'importanza di salvare vite. Si esamineranno lesioni comuni e gravi e i metodi di trattamento appropriati. Infine, dimostriamo alcune tecniche di primo soccorso e bandiscono diversi miti di primo soccorso. Enrol oggi!
Read More
In This Free Course, You Will Learn How To
View All Learning Outcomes
View Less
Complete This CPD Accredited Course & Get Your
Certificate

!
Certify Your Skills

A CPD accredited Alison Diploma/Certificate certifies the skills you've learned

Stand Out From The Crowd

Add your Alison Certification to your resumé and stay ahead of the competition

Advance in Your Career

Share your Alison Certification with potential employers to show off your skills and capabilities
Learner Reviews & Feedback For Primo Aiuto per lo sport
View More Reviews
Back to course information
About Your Alison Course Publisher
- Alison Stats
- Alison Stats
- Learners
- Courses
- Learners Have Benefited From Their Courses
Read More
More Free Online Courses by This Publisher
Learners Who Took This Course Also Enrolled In
Frequently Asked Questions
What are the basic first aid techniques you can use for a sports injury?
What are the most common first aid injuries in sports?
How is first aid used in sports?
What is the best course to take for first aid for sports?