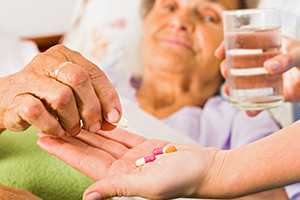 Capire Medicine per Caregivers
-
Learners already enrolled
This Free Online Course Includes:
Hours of Learning
CPD Accreditation
Final Assessment
Start Course Now
COURSE PUBLISHER
Published by
-
Capire Medicine per Caregivers
Questo corso gratuito online fornisce linee guida sul metabolismo dei farmaci, le prescrizioni e l'amministrazione per i caregivers.
Un caregiver è un individuo altamente stimato che si preoccupa della salute e del be...
Un caregiver è un individuo altamente stimato che si preoccupa della salute e del benessere di altre persone che hanno bisogno di aiuto a causa dei limiti causati dalle sfide sanitarie. Se sei un caregiver, per scelta o per circostanza, o vorrebbe diventarlo, allora questo corso gratuito online è per te. Imparerai il metabolismo dei farmaci e l'amministrazione della droga per aiutarti a fornire cure sicure ed efficaci per i tuoi clienti e i propri cari. Enrol ora.
Read More
In This Free Course, You Will Learn How To
View All Learning Outcomes
View Less
Complete This CPD Accredited Course & Get Your
Certificate

!
Certify Your Skills

A CPD accredited Alison Diploma/Certificate certifies the skills you've learned

Stand Out From The Crowd

Add your Alison Certification to your resumé and stay ahead of the competition

Advance in Your Career

Share your Alison Certification with potential employers to show off your skills and capabilities
Learner Reviews & Feedback For Capire Medicine per Caregivers
View More Reviews
Back to course information
About Your Alison Course Publisher
- Alison Stats
- Alison Stats
- Learners
- Courses
- Learners Have Benefited From Their Courses
Read More
More Free Online Courses by This Publisher
Learners Who Took This Course Also Enrolled In
Frequently Asked Questions
What are the best free online courses on medication for caregivers?
Why should caregivers receive training on medication?
How long is a medication training course for caregivers?
How much does a medication administration training course cost?