Sustainable Business - Marketing Strategia per prodotti e servizi sostenibili - Revised
Imparare a commercializzare prodotti e servizi sostenibili e soddisfare le esigenze dei propri clienti
Publisher:

Saylor Academy
This free online sustainable business course will teach you how to effectively market your sustainable products and services. Sustainable businesses need effective marketing strategies. Whether advertising an eco-friendly product, methods for reducing environmental impact, or information that promotes social consciousness, your marketing should clearly communicate the benefit you bring to both your customers and to society as a whole.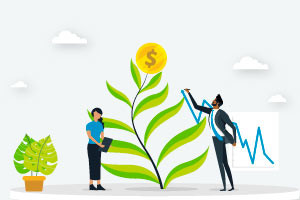 Durata

1.5-3 Oras

Accreditation

CPD
Description
Sustainable Business - Marketing Strategia per prodotti e servizi sostenibili ti insegnerà come un business può condurre un marketing sostenibile sviluppando e promuovendo prodotti e servizi che risponderanno alle esigenze dei consumatori utilizzando le risorse responsabilmente per garantire una migliore qualità di vita ora e per le future generazioni future.
Il corso inizia introducendo la pratica di marketing business sostenibile. Imparerai come il marketing di business sostenibile si attinge ai metodi di marketing tradizionali e li applica a iniziative e prodotti sostenibili. Imparerai i modi in cui un business crea una strategia di marketing di sostenibilità forte per poter avere successo. In seguito, verrà introdotto al mix marketing. Imparerai come basare il mix marketing sui principi di sostenibilità consente un approccio di marketing sostenibile efficace. Si imparerà l'importanza della segmentazione del mercato al fine di adeguare gli sforzi di marketing ai consumatori che sono meglio allineati come potenziali acquirenti o clienti di un prodotto o servizio.
Infine, si imparerà le barriere di mercato che devono essere considerate e affrontate dai marketer della sostenibilità al fine di meglio posizionare i loro prodotti e servizi per la crescita. Si imparerà sui vari rischi di business coinvolti nel marketing di business sostenibile che può causare problemi con un piano aziendale e di marketing.
Questo corso sarà di grande interesse per professionisti del business, mercatini e eco - imprenditori che vorrebbe imparare come un business può commercializzare con successo prodotti e servizi sostenibili in modo sostenibile.
Inizio Corso Ora
h