Studi Nursing - Ruolo della Nurse in chirurgia chirurgica - Revised
Scopri la gamma di interventi chirurgici effettuati nel trattamento delle malattie e dei disturbi e dei ruoli vitali svolti dal team medico.
Salute
Gratuito
In this free online nursing studies course, you will learn about the vital roles performed by the nurse during surgical care. Nursing staff provide essential support during all phases of the surgical cycle, which encompasses the peri-operative, pre-operative, intra-operative, and recovery room phases. The course will also teach you about some of the most essential surgical interventions that nurses are regularly involved in
Take this certificate on your own.
Start now and learn at your own pace.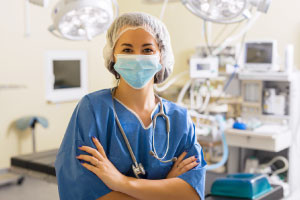 Description
Questo corso gratuito online esamina il personale infermieristico di supporto essenziale che fornisce durante tutte le fasi del ciclo chirurgico, che comprende le fasi operative, pre - operative, intra - operative e di recupero. Il corso introdurrà il discente ai ruoli cruciali svolti dal team medico in tutta l'esperienza chirurgica e dalla gamma di interventi chirurgici effettuati nel trattamento delle malattie e dei disturbi.
Il corso si concentrerà sulla gamma di implicazioni per l'allattamento e sulle corrispondenti procedure di cura dei pazienti applicate durante il ciclo chirurgico. Si discute anche la selezione, il tipo, l'effetto e il metodo di somministrazione degli agenti anestetici. Elementi chiave del corso focalizzarsi sulle complicazioni post - operatorie e sulle procedure di cura del paziente.
Questo corso di studi infermieristico sarà di grande interesse per tutti i professionisti dell'assistenza sanitaria che gradirebbe acquisire una maggiore comprensione delle fasi chiave dell'esperienza chirurgica e dei tipi di interventi chirurgici effettuati nel trattamento del danno, malattie e disturbi.
Start Course Now