Studi Nursing - Clinical Skills: Caring for Respiratory Pazienti - Revised
Questo corso ti fornisce le conoscenze e le competenze necessarie per l'assistenza efficace e l'assistenza ai pazienti che incontrano difficoltà respiratorie.
Salute
Gratuito
This free online nursing course will teach you how to properly care for respiratory patients. The course will guide you through the anatomy and physiology of the respiratory system, teach you about the role that each organ plays in respiration, and examine common factors that cause each organ to become diseased. By the end of the course, you will be fully up to speed on the duties that nurses must perform to ensure that their respiratory patients are well cared for.
Take this certificate on your own.
Start now and learn at your own pace.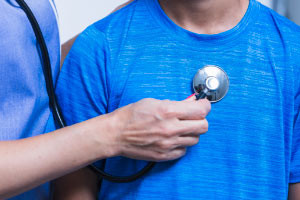 Description
Gli studi di infermieristica sono concepiti per garantire che si abbia la conoscenza e le competenze necessarie per fornire cure e assistenza efficaci a tutti i pazienti che hanno difficoltà respiratorie nelle impostazioni di assistenza sanitaria. Il corso inizia a spiegare l'anatomia e la fisiologia del sistema respiratorio. Si imparerà il ruolo che ogni organo gioca nella funzione respiratoria ed esamina i fattori più comuni che causano ogni organo a diventare malato all'interno del corpo.
Si studierà poi una serie di esami fisici e procedure che il personale medico spesso usa per determinare se un paziente ha bisogno o meno di un intervento respiratorio. Esamineremo anche i compiti che le infermiere devono svolgere per garantire che i loro pazienti siano sia fisicamente che mentalmente preparati per tali procedure. Il corso poi passa in rassegna vari disturbi del sistema respiratorio. Esamineremo i disordini dei sistemi respiratori superiori e inferiori.
Qui imparerà come identificare e aiutare a curare vari disturbi del sistema respiratorio superiore e inferiore, come la broncopneumopatia cronica ostruttiva (COPD), l'asma, l'enfisema e la bronchite. Esaminerà anche le implicazioni che questi disturbi possono avere sulla cura di un'infermiera a cura di un paziente.
Questo corso gratuito di allattamento online sarà di grande interesse per tutti i professionisti dell'assistenza sanitaria che vorrebbe assicurarsi che le loro competenze siano mantenute al livello più alto. Il corso sarà di grande interesse anche per qualsiasi discente che sta pianificando una carriera in ambito infermieristico o in altre aree del settore sanitario.
Start Course Now