Basici di gestione del flusso di cassa
Scopri i rapporti di Cash Management, Profidoneità e Financial Ratio, con questo corso gratuito di gestione del flusso di cassa online.
Business
Gratuito
Questo corso di contabilità online gratuito ti insegna tutte le competenze di cui hai bisogno per condurre analisi di rapporto di liquidità e redditività, e valutare l'impatto che i cambiamenti - in - costi hanno sui rendiconti finanziari. In questo corso imparerai anche su come questi si relaziona con gli obiettivi finanziari di un'azienda, e guadagnerai una forte comprensione teorica e pratica di liquidità, efficienza, redditività, rapporti di leva finanziaria e altro ancora.
Take this certificate on your own.
Start now and learn at your own pace.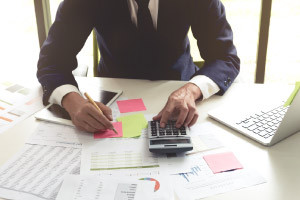 Description
Questo corso vi introdurrà per la prima volta alla gestione del flusso di cassa e vi darà una forte comprensione della liquidità, dell'efficienza, della redditività e dei rapporti di leva finanziaria. Si analizzeranno anche i tipi più importanti di rapporti finanziari, e verranno mostrati come applicarli in situazioni pratiche che si presentano comunemente in un anno fiscale. Sarete quindi guidati attraverso il processo di valutazione degli impatti che i cambiamenti delle entrate e dei costi possono avere sui rendiconti finanziari.

Prossimo, si studierà come l'analisi di Ratio sia utilizzata da futuri creditori e investitori. Qui di seguito, imparerai a utilizzare le informazioni contenute nella Dichiarazione Informativa e Bilancio per ottenere rapporti finanziari. Il corso spiega poi, con esempi, il rapporto tra valori assoluti di vendite, costi, spese, attività, passività ed equità. Questo può essere utilizzato come base per comprendere la posizione finanziaria di un'azienda e le sue probabili prestazioni in futuro.

Gestione del flusso di cassa in modo efficiente è essenziale in qualsiasi business. Questo corso ti insegnerà le competenze necessarie per analizzare Balance Sheets and Income Statement, calcolare e interpretare i rapporti finanziari, e implementare azioni per raggiungere obiettivi finanziari chiave di liquidità. Ogni professionista contabile e business proprietario ha bisogno di imparare queste abilità. Quindi, consulta il corso oggi, migliorate la vostra comprensione di questi principi contabili chiave e mantenete le finanze della vostra azienda che scorre senza intoppi.
Start Course Now
Need Some Help?
What is cash flow management?
What are the best free online finance courses?
How much does an online finance course cost?