Il Futuro delle tecnologie di Additive Manufacturing
Completa la tua prowess nella stampa 3D con questo corso online gratuito su The Future of Additive Manufacturing Technologies.
Publisher:

NPTEL
Questo corso online gratuito vi fornirà una padronanza indispensabile delle sfaccettature di Additive Manufacturing (conosciuta anche come 3D Printing) Technologies. Saranno illustrati i processi coinvolti, necessari per l'avanzamento della carriera, e per soddisfare gli obiettivi di produzione. Guadagnerai professionalità di tipo industriale nella stampa 3D insieme a approfondimenti e consigli che trasformeranno e miglioreranno la tua conoscenza complessiva della manifattura.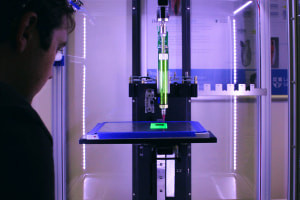 Durata

3-4 Oras

Accreditation

CPD
Description
Questo corso gratuito online su The Future of Additive Manufacturing Technologies inizia con una discussione sulla Machine Intelligence. Imparerai i suoi obiettivi da diverse prospettive, così come le sue aspettative nei paradigmi moderni. Si procederà ad esaminare il concetto di Blockchain, i suoi vantaggi, e diversi aspetti di blockchain come il ledger centralizzato e decentralizzato / distribuito, l'estrazione mineraria, la prova crittografica del lavoro, le firme digitali e altro ancora. Inoltre, un breve esame sulla storia di Additive Manufacturing (AM), nonché alcuni dei suoi concetti di base come Material Choice, categorie AM e applicazioni tipiche, e verrà effettuata una semplice discussione su Metal AM Technologies.
Prossimo, verrà considerata una recensione più approfondita di Additive Manufacturing. Si esamineranno due processi dominanti di Additive Manufacturing che includono la Laser Powder Bed Fusion, e il Vat Polymerization Process. Si analizzeranno questi due processi di AM, toccando più aspetti sotto ogni processo come il loro schematismo, il flusso di processo, le opzioni materiali, le strutture di supporto, i parametri di build, i requisiti di processo, i casi - utilizzi ed esempi riguardanti entrambi i processi. Inoltre, tutte le altre categorie del processo di Additive Manufacturing oltre a queste due saranno brevemente discusse.
Finalmente si otterrà una panoramica di Design for Additive Manufacturing (DFAM), analizzando i suoi approcci come il design del sistema, la parte design e il design di processo. Si discuterà anche l'importanza di DFAM e alcuni casi di studio associati a esso. Inoltre, esplorerai il concetto di supply chain per Additive Manufacturing, i suoi vantaggi, le sfide, i limiti, i suoi vari modelli e gli impatti della stampa 3D sulla Supply Chain. I soggetti presentati in questo corso sono sufficienti a trasformare la vostra conoscenza della stampa Additive Manufacturing/3D da un livello elementare ad un livello più avanzato. Quindi perché aspettare? inizia questo corso oggi!
Inizio Corso Ora