Introduzione a Tubature Tubi e Fixture - Revised
Ulteriori informazioni sulle tubature e sui dispositivi di fissaggio.
Publisher:

USAID
Alison's free online Introduction to Plumbing Pipes and Fixtures course teaches about the installation of long-lasting plumbing pipes as well as the important materials used to make plumbing pipes and fixtures, including plastic, copper, cast iron, carbon steel, and CSST. You will also learn that for a building to be considered habitable, it has to be connected to water and gas supply systems and have provisions for handling wastewater.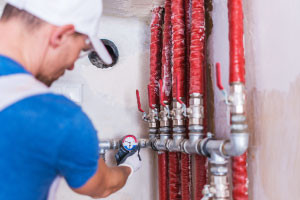 Durata

1.5-3 Oras

Accreditation

CPD
Description
Introduzione alla Plumbing Pipes e Fixtures è un corso di formazione professionale progettato per chiunque voglia saperne di più sulle tubature. Questo corso è il terzo nella serie di corsi idraulici. Mentre i primi due introdusse il discente al commercio e agli attrezzi idraulici e disegni, questo corso fa un passo avanti. Per un edificio da considerare abitabile, deve essere collegato ai principali sistemi di alimentazione idrica e gassosa e disporre di adeguate disposizioni per la gestione delle acque reflue. L'installazione di tubature idrauliche a lunga durata garantisce che questi requisiti di base siano soddisfatti. In questo corso gratuito online, vari materiali come plastica, rame, ghisa ghisa, acciaio al carbonio e CSST che vengono utilizzati per fare i tubi e i dispositivi di fissaggio sono discussi. Oltre a questo, il corso copre i termini associati alle tubature idrauliche, le differenze tra gli accessori e le valvole, i test effettuati sulle tubature e i tubi di gas per garantire che siano a prova di tenuta, e i principi di base della sanita ' e della sicurezza. Questo corso sarà di grande interesse per i professionisti del settore edili che vogliono approfondire la conoscenza esistente sulle tubature: identificare le proprietà così come i vantaggi e gli svantaggi di lavorare con materiali diversi di tubature. Sarà di interesse anche per tutti i discenti che vogliono imparare sui diversi tipi di tubi e di fissaggi in uso oggi.
Start Course Now