Imprese sostenibili - Imprenditorialità e Innovazione - Revised
Scopri come l'imprenditorialità innovativa possa creare imprese sostenibili a livello mondiale.
Business
Gratuito
This free online Sustainable Business course focuses on Entrepreneurship and Innovation. Opening a new restaurant is not necessarily an entrepreneurial venture, rather than just a new venture. To be truly entrepreneurial, you need to come up with a new model of profitable and sustainable business. With this course, you will learn that in an entrepreneurial venture, improved solutions are applied to better satisfy consumer needs.
Take this certificate on your own.
Start now and learn at your own pace.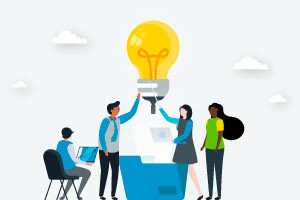 Description
Imparare come l'imprenditorialità e l'innovazione possano relazionarsi a business sostenibili e come gli innovatori imprenditoriali forgano nuovi percorsi e infrangere con soluzioni accettate di fare le cose in imprese nuove o esistenti studiando il corso Sostenibile Business - Entrepreneurship e Innovazione. Il corso inizia con l'introduzione del processo di imprenditorialità e spiega diverse sfide che si possono verificare quando si diventa imprenditori. Imparerai come i diversi tipi di imprenditori gestiscono aziende di successo mentre intraprendendo pratiche sostenibili.
Prossimo, si imparerà l'importanza dell'innovazione quando si gestisce un business sostenibile. Imparerai come la tecnologia e l'innovazione sono correlate e come sono utili per la sostenibilità delle imprese. Imparerai quanto è importante creare nuove relazioni e contatti quando si gestisce un business. Infine, vi presenteremo a Simply Green Biofuels, una società di rifornimento sostenibile. Seguirete il viaggio della compagnia dall'inizio, imparando le sfide che ha affrontato e il successo ottenuto. Attraverso questo studio di caso si acquisirà una comprensione più forte di come la sostenibilità possa essere legata all'imprenditorialità e come la sostenibilità l'imprenditorialità possa essere un'impresa di successo e di valore.
Questo corso sarà di grande interesse per i professionisti del business e gli imprenditori che vorrebbe imparare come l'imprenditorialità può portare all'innovazione per quanto riguarda la sostenibilità negli affari e come questo possa giovare sia all'economia che alla società.
Start Course Now
h