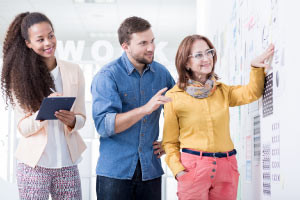 Fondamentali di Project Management
-
Learners already enrolled
This Free Online Course Includes:
Hours of Learning
CPD Accreditation
Final Assessment
Start Course Now
COURSE PUBLISHER
Published by
-
Fondamentali di Project Management
Imparare a gestire con successo qualsiasi progetto e comprendere importanti fasi di progetto e strumenti di project management.
Questi fondamentali online gratuiti del corso di project management vi insegneranno g...
Questi fondamentali online gratuiti del corso di project management vi insegneranno gli aspetti più importanti della gestione dei progetti in modo chiaro e semplice. Ci sono determinate fasi di progetto, strumenti e risorse che ogni project manager deve sapere per completare un progetto propriamente. Questo corso vi guiderà attraverso tutti, in modo da poter dare alle vostre abilità di gestione del progetto, e al vostro curriculum, una spinta oggi.
Read More
In This Free Course, You Will Learn How To
View All Learning Outcomes
View Less
Complete This CPD Accredited Course & Get Your
Certificate

!
Certify Your Skills

A CPD accredited Alison Diploma/Certificate certifies the skills you've learned

Stand Out From The Crowd

Add your Alison Certification to your resumé and stay ahead of the competition

Advance in Your Career

Share your Alison Certification with potential employers to show off your skills and capabilities
Learner Reviews & Feedback For Fondamentali di Project Management
View More Reviews
Back to course information
About Your Alison Course Publisher
- Alison Stats
- Alison Stats
- Learners
- Courses
- Learners Have Benefited From Their Courses
Read More
More Free Online Courses by This Publisher
Learners Who Took This Course Also Enrolled In
Frequently Asked Questions
What are the four phases of project management?
How do you make a project successful?
What can one learn in the Fundamentals of Project Management course?
What is the best course for learning about the fundamentals of project management?