Fisica Normal and Contact Forces - Revised
Ottenere una migliore comprensione della prima legge di Newton, gravità, forza normale, e frizione con questo corso.
Insegnamento & Academica
Gratuito
Questo corso di fisica vi darà una migliore comprensione della forza di gravità e della sua controparte, la forza normale. Entro la fine del corso si avrà appreso perché alcuni oggetti non si muovono anche quando sono su una pendenza, e avranno studiato gli effetti che le forze hanno sugli oggetti. Ad esempio, si sa che quando si tenta di spostare un oggetto pesante, ci vuole più sforzo per farlo muovere che non per mantenerlo? Imparate il perché, oggi.
Take this certificate on your own.
Start now and learn at your own pace.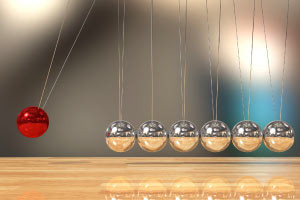 Description
La prima legge di Newton afferma che un oggetto a riposo starà a riposo mentre un oggetto in movimento resterà in movimento a meno che non ci sia qualche forza non equilibrata o netta. Questo corso ti presenterà per prima cosa una forza normale che è la forza quando un oggetto si riposa su qualsiasi superficie che sia perpendicolare alla superficie dell'oggetto. Imparerai che se due superfici non sono in contatto, non possono esercitare una forza normale su ogni altro.

Gravità diminuisce in forza l'ulteriore si allontano dal centro della terra. Questo corso discuterà la forza di gravità che è pari a volte di massa il campo gravitazionale della terra, circa 9.8 metri al secondo. Imparerai che una forza netta è di massa volte l'accelerazione, e che per calcolare l'accelerazione di velocità di un oggetto, si divide la forza della direzione che si muove dalla massa dell'oggetto. Si studierà anche l'attrito cinetico e l'attrito statico.

L'attrito Kinetic è una forza che agisce tra superfici in movimento e sfregamento statico è una forza che mantiene un oggetto a riposo. Facendo questo corso, si imparerà a calcolare l'attrito statico e cinetico su un oggetto stazionario da spostare lungo una superficie. Quindi, guardate il corso e cominciate a imparare la dinamica degli oggetti in movimento su superfici specifiche, oggi.
Start Course Now
h