Starting a Business or Social Enterprise-The Stone Soup Way-Revised 2017
Apprenez des compétences précieuses pour créer votre propre entreprise grâce à ce service en ligne gratuit qui démarre votre propre cours d'affaires.
Entreprises
Gratuit
Ce cours en ligne gratuit dans le démarrage d'une entreprise ou d'une entreprise sociale vous enseignera comment mettre en place votre entreprise The Stone Soup Way. Pour réussir dans n'importe quelle poursuite, vous devez avoir une passion pour elle. Cela est particulièrement vrai pour les entrepreneurs, en particulier ceux qui travaillent à la création d'un changement social. Toutefois, en plus de leur passion, tous les entrepreneurs prospères ont besoin d'une formation et d'un accès efficaces aux compétences et aux connaissances clés en affaires.
Take this certificate on your own.
Start now and learn at your own pace.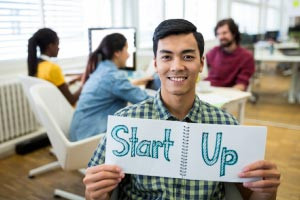 Description
Ce cours vous donnera un aperçu de l'esprit d'entreprise et des compétences de l'entreprise sociale qui vous aideront à prendre vos décisions. Vous apprendrez des techniques efficaces de création d'équipes et vous étudierez les caractéristiques des entrepreneurs prospères. Le cours vous approurez également comment gérer les temps de crise ou gérer le changement au sein d'une entreprise. Vous apprendrez également les qualités les plus importantes que vous devez acquérir pour devenir un entrepreneur prospère.

Vous étudierez ensuite le livre de Bill Liao: "Stone Soup-The Secret Recipe for Making Something from Nothing" et allez à travers les 26 ingrédients nécessaires pour vous aider à mettre en place une nouvelle entreprise, en particulier avec un aspect social. Vous étudierez le profil de cet entrepreneur et fondateur de l'entreprise qui a réussi, et vous découvrirez comment vous faire découvrir la saveur de votre entreprise à l'aide de ses ingrédients testés.

Lancer une nouvelle entreprise ou un nouveau projet est toujours passionnant. Grâce à ce cours gratuit d'affaires en ligne, vous apprendrez les bonnes procédures à suivre afin de faire de votre entreprise un succès, ainsi que des compétences précieuses pour identifier et utiliser l'énergie positive et éviter l'énergie négative. Alors, consultez ce cours aujourd'hui, et vous êtes prêt à aller plein de souffle dans votre nouvelle entreprise !
Start Course Now