Design Thinking-Génération d'idées, de récits et de prototypes-Révisé
Le cours Design Thinking-Generating Ideas, Stories et Prototypes étudiera les techniques de génération d'idées et leur développement en produits.
Entreprises
Gratuit
This free online Design Thinking - Generating Ideas, Stories, and Prototype course will teach you how professional products are built from ideas, and how ideas themselves can be productively generated. You will also learn how to create storyboards, derive new concepts, and prototype your designs professionally. These are essential skills for any professional with creative responsibilities, and you can gain them today, for free.
Take this certificate on your own.
Start now and learn at your own pace.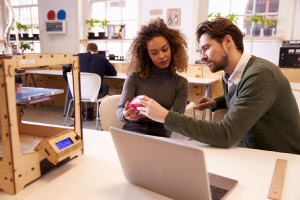 Description
Vous étudierez l'approche de la narration à la conception. Vous apprendrez à créer des storyboards et à apprendre comment les storyboards peuvent vous aider dans le processus de conception. Vous serez introduit dans le prototypage, ce qu'il est et comment il vous aide dans votre conception et vous apprendrez comment le prototypage de papier peut être utile dans le processus de conception.
Ce cours sera d'un grand intérêt pour ceux qui travaillent dans les domaines de la conception de produits et de services et qui souhaitent améliorer la production d'idées, d'histoires et de prototypes dans le cadre de leur processus de conception. Préalables: L'apprenant aurait dû suivre les cours précédents dans "Introduction à la conception de la pensée et des personnes design" et "Penser à la conception-recherche et analyse".
Start Course Now
h