Beginner English 105
Learn English grammar, pronunciation and vocabulary relating to numbers, time and events with this free online course.
Publisher:

Advance Learning
Do you find studying English challenging? This course is part of a 'Beginner English' series that gives you the confidence to master the basics of telling time and planning events. We cover grammar, pronunciation and vocabulary relating to these areas, including 'prepositions of time', 'what' or 'when' questions relating to time and basic vocabulary to help you easily discuss events and make plans. Polish your English skills with this course.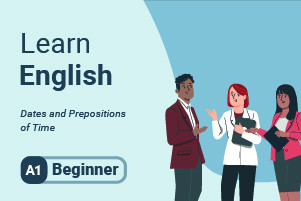 Duración

1.5-3 Horas

Accreditation

CPD
Description
This course forms part of a wider 'Beginner English' series and is a building block in a set of courses that help you widen your vocabulary and become more self-assured in expressing yourself and conversing in English. This course reinforces what you have learned in the previous courses. We begin by examining the pronunciation of words relating to time, including days of the week and the months of the calendar. 
The course then moves on to numbers. We compare ordinal numbers (like 'first' and 'second') to cardinal numbers (like 'one' and 'two') and explain when to use them. We then examine grammar relating to time. You will learn how to tell the time and how to read a clock in English. The course then discusses the 'prepositions of time' ('in', 'at' and 'on') and shows you when to use each correctly.
Our final section goes through vocabulary relating to events. We demonstrate how to add adjectives to add information and make the event-related word more specific. This course takes you through each section step-by-step, using video and audio clips to enhance your learning experience. Sign up to boost your confidence while speaking English.
Inicio Curso Ahora