The Anatomy of Spinal Cord Tracts
In this free online course, learn about the functions, types and tasks of spinal cords tracts in the human body.
Publisher:

Learning Anatomy
In this course, we will study the spinal cord anatomy in detail. We will examine how ascending and descending spinal cords carry information up and down between the brain and body. We will also examine in detail the different types of tracts in the spinal cord, the anterolateral system and the functions and structure of these tracts. This course will give you detailed information on ascending and descending tracts.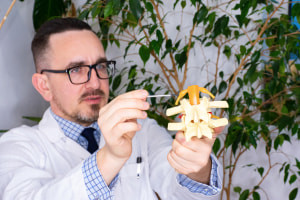 Duration

1.5-3 Hours

Accreditation

CPD
Description
In this course, Dr Saqib Mansoor we will discuss the structure, functions and role of the spinal cord in the human body. At first, we will examine the ascending tracts and the arrangement of the nerve fibre tracts, including their different types. Next, we will talk about the neuron levels in the ascending tracts. We will also learn about its anatomical organisation and functions. We will compare the difference between the posterior, lateral and anterior funiculus. Would you like to know the pain and temperature pathways in the spinal cord? We will help you answer this question and others.
Then the course will explain the structure of the posterior white column. We discuss the detailed anatomy of the fasciculus gracilis and cuneatus. Learn about the functions and complex structure of the dorsal column and medial lemniscus system. Wondering what role the anterior and posterior spinocerebellar pathways play in the spinal cord? We will unveil the answer before investigating the muscle joint sensory pathways to the cerebellum. Examine which neurons transmit sensory information through the sense of touch and learn about the neural pathways of these various ascending tracts that transmit sensory information to the cerebral cortex. Study the anatomy and functions of the visceral sensory pathways and the spinal olivary pathway.
The course then moves on to the descending tracts. We will learn in detail the functions and structure of these tracts. We will also look at the types of neurons involved in transmitting sensory information from the cerebral cortex and the structure and functions of the pyramidal pathways. We demonstrate how neurons are involved in the pyramidal pathways and how they work. In addition, we will study the neurohistology of these pathways and discuss the anatomy of the extrapyramidal tracts of the spinal cord. Learn how these pathways control involuntary and automatic control of all musculature and understand the vestibulospinal and reticulospinal pathways in detail. This course is ideal for medical students and physicians who want to refresh their knowledge in this area. So why wait? Start your learning today.
Start Course Now