Standup Comedy Complete: Humorous Public Speaking, & Becoming Funnier
Standup Comedy Complete: The Ultimate Guide To Humorous Public Speaking and Writing and Performing Jokes
Publisher:

Chester Sky
Welcome to Standup Comedy Complete: The free online course that will guide you trough standup comedy. From writing and performing jokes to humorous public speaking. The course will teach you about to build a comedy act from scratch, you will see examples from routines, and how to improve your act as well. So start today and gain the confidence to stand on stage and make people laugh.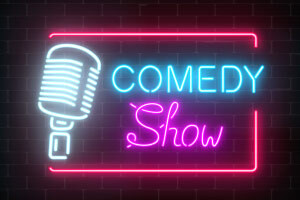 Duration

1.5-3 Hours

Accreditation

CPD
Description
Do you love standup comedy? Want to try your hand at being a comedian? The standup comedy course is designed to be the one stop shop at learning how to perform standup comedy.

This course breaks down the tricks and techniques used in standup comedy so that you too can be funny onstage. We'll examine how you can create jokes yourself, explore various comedic tools and styles, and explain how a comedy act can be built from scratch with real life examples from my own standup comedy routine.
If you want to become a strong public speaker, performing standup comedy is one of the fastest ways to improve your performance. Learning how to do standup comedy will teach you how to come up with jokes that make people laugh onstage, make you an entertaining humorous public speaker, and give you confidence when performing.
Start Course Now