Small Business Management
So you want to start a business? Congratulations - this course is the first step in the journey to your future success!
Publisher:

Saylor Academy
In this free online diploma, you will be introduced to key aspects of starting a business. As an entrepreneur, are you unsure of what the contents of your business plan should entail? You will be trained on how to draft an effective business and marketing plan. The course will also provide lessons on how to build an efficient team of managers. Learn from the experiences of some of the world's biggest organizations in this course.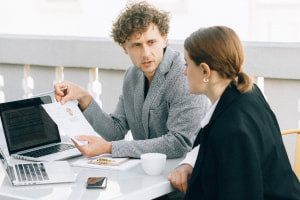 Duration

6-10 Hours

Accreditation

CPD
Description
This free online diploma in small business management provides you with the skills needed for business planning, workforce building, marketing strategies and business financing. It begins with how to build the right team for your organization, explaining leadership, entrepreneurship and strategy as the three principal fields on which the principles of management stand. There is a perception that emotion and business don't mix but is this so? Are there genuine connections between emotion, attitude, and behaviour at work? Study the affective events theory (AET) developed by Howard Weiss and Russell Companzano, which addresses these connections. This course will also shed light on management recruitment processes and how to efficiently plan for succession in your organization.

Writing an effective business plan is one of the first things an entrepreneur will encounter. Are stuck trying to put a business plan together? Perhaps you are not certain what each section should and should not contain. This course is packed full of knowledge to help you with this important aspect of starting a company. Of course, no business plan can be brought to fruition without adequate finance. Acquiring the funds for your project is another important aspect of your start-up journey. Would you consider venture capitalists stifling to business innovation? And what are the alternatives for funding businesses? On the other hand, as an investor, what should you consider before investing? Lastly, you will be introduced to the concept of marketing and will understand how to develop an effective marketing strategy, conduct research with surveys/questionnaires, and make accurate forecasts.

A business plan is the framework on which your business is built. It guides an entrepreneur in their decision making and helps sell the business idea to investors, partners and other stakeholders. Building a cohesive team is one of the primary steps in launching a venture and successful businesses require not only top-notch executives and advisors, but also employees who are a good fit for the company. The entire processes of marketing research design, planning and analysis form another very important aspect in any organization. This free online course is geared towards both those planning to launch their businesses as well as those with established ventures looking to expand. Using a rich blend of case studies and video content, the course will coach you in important business skills, teaching you how to write a business plan, launch a new venture, identify market opportunities, create a marketing plan and - most importantly - finance it all.
Start Course Now