Practical Stress Management for Life & Work
Learn about stress and practical ways to reduce and manage it with this free online stress management course.
Publisher:

Makin It Happen
Stress management is an essential skill and success factor in today's ever-changing world. This free online stress management training will enable you to manage stress positively in your personal and professional life. You will learn more about stress and whether it can be good for you, and be introduced to a straightforward stress management process as well as many practical tips and strategies to both reduce and manage stress.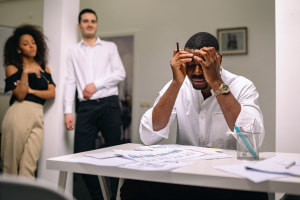 Duration

1.5-3 Hours

Accreditation

CPD
Description
This course will show you how to manage stress positively in life and at work and starts with an introduction to the topic, followed by a practical look at what stress is and whether stress can be good for you. It then introduces a straightforward stress management process that you can use for both reducing and managing stress. This includes looking at the symptoms of stress, acknowledging that you are stressed, the causes of stress, taking action to reduce stress, taking interim steps to relieve the symptoms and positive stress management skills to apply on an ongoing basis.
The course also covers a wide range of practical stress management tips and strategies to use in all areas of your personal and professional life. The stress management training has been designed in such a way that there is something for everyone to take away and you will definitely find some of these techniques are more relevant to you than others.
No matter what you do for a living, which industry you find yourself in or what your personal life is like - there is almost always an element of stress. Managing stress is something that can help you perform optimally in the workplace and address challenges in a more level-headed way, and contribute to a more calm, satisfying home life. Enrolling in this easy-to-understand stress management certification will make the world of difference to yourself and especially those around you.
Start Course Now