NSDC Course: Food & Beverage Steward
Acquire the knowledge and skills necessary to become an efficient and talented food and beverage steward.
Publisher:

Advance Learning
This free online food and beverage stewardship course will teach you the knowledge and skills required to become a talented and efficient food and beverage steward. The Food and Beverage industry is one of the highest-paid industries in the hospitality service sector and the food and beverage steward is the face of the establishment. This course will teach you how to thrive and advance in the workplace, and offer a top class service to guests.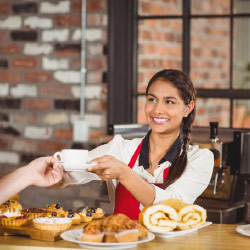 Duration

15-20 Hours

Accreditation

CPD
Description
The food and beverage steward is the face of an establishment and by delivering extraordinary service, the steward can convert a casual guest into a patron and the business could move into the league of extraordinary customer service providers. This course begins by discussing the roles and responsibilities of a food steward. You will learn the etiquette and courtesies required from one as well as study the basic rules for maintaining sanitation and safety.

You will then look into the different types of linen and furniture, chinaware, glassware, flatware, and tableware. This course will also discuss the different equipment used in buffet and bar setups and service. You will learn how to prepare different alcoholic and non-alcoholic beverages, prepare different napkin folds, and distinguish between different menus. In addition, you will learn basic safety procedures during emergencies, how to use first aid when necessary, and much more.

In the years to come, it is expected that several international hotel brands will make their presence in India. This means the domestic hospitality industry is going to be adding millions of jobs in the next few years. Upon the completion of this course, you will gain a better understanding of proper communication with customers, personal hygiene, first aid, napkin folds, and many more topics that will enable you to deliver high-quality service. Sign up for this course and learn how to properly steward food and beverage today!
Start Course Now
h