Advanced Diploma in Data Science with R
In this free online course, learn about the important concepts and essential factors involved in data science with R.
Publisher:

Juan Galvan
Discover the fundamental aspects of how data science helps businesses make objective and influential decisions in this free online data science with R course. Master the real-world applications of all the data various business sectors accumulate and use it for your clients or employers. You will also gain practical experience on how to discover patterns from raw data and the many career opportunities available in the field of data science.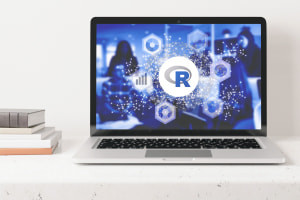 Duration

15-20 Hours

Accreditation

CPD
Description
Are you a student or working professional who enjoys studying and wants to become an authority in the field of data science? This R programming tutorial will help you to use, manipulate and visualize data, become proficient in how machine learning works, and gain the ability to create various programs and algorithms. As a result, you will be able to work with big data and derive valuable business insights and by extrapolating and sharing these insights, you will help organizations solve various complex business problems. You will become a valuable asset as your expertise will ensure that you base all decisions on data and not just inclination or emotion. For example, you use customer-related data to determine what customers are buying and deduce why they do so under which circumstances. This information will influence the marketing decisions that your clients will need to make.
Firstly, the course will introduce you to the different job roles you can do in your career as a data scientist which provides endless opportunities that continue to grow every day. Businesses are continuously ramping up their data efforts as they digitize their business models and digital revenue opportunities. What are the current trends in data science? This R online course will make you aware of the potential growth opportunities driven by the booming cyber security industry, the phenomenal innovations brought by the internet of things (IoT) and the continuous growth in the adoption of data analytics by small to medium-sized businesses. You will learn how to interact with R, the programming language you will be using in your data science projects and its integrated development environment (IDE) , known as R Studio. This section of the course will also show you how to master the different data types and structures that are exclusive to R.
The next section of data science with R course explores the concept of data manipulation in R. You will be taught how to process data in R intuitively and practically, thereby achieving results faster and more efficiently. Understanding the data manipulation packages in R will be crucial in making you a successful data scientist. Data visualization in R is one of the most important aspects of data science as it is the primary method through which you convey your findings and results. Correctly visualizing data is the primary skill that will make you successful in this field. Other fascinating sections covered are single and two-variable plots, aesthetics mapping, R Shiny web applications, and how to start a career in data science. This R programming course will interest students and working professionals who want to learn and become experts in data science and data visualization professionals.
Start Course Now