Master Adobe Illustrator CC With Ease
Learn the essential skills to create designs and logos from scratch using Adobe Illustrator in this free online course.
Publisher:

Juan Galvan
In this Master Adobe Illustrator CC course, you will learn how to navigate the Adobe Illustrator CC platform entirely and fully utilize the features available to you. You will study design and learn to make your graphics and logos using the software and create stunning effects. This free online Adobe Illustrator course also teaches you how to use the different drawing tools and techniques to masterfully plan requirements for any design project.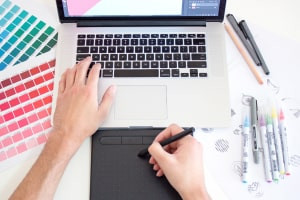 Duration

6-10 Hours

Accreditation

CPD
Description
Have you ever wanted to learn how to design your logo for a company you would like to start? Have you tried to create fantastic graphic designs or artistic works but feel that you could do with some technical training? This Adobe Illustrator certification will unlock the keys to Adobe Illustrator's platform and teach you how to utilize this software for designs that you have maybe been considering for years. You will learn how to work with Illustrator documents, the artboards and graphic enhancement features before learning the key distinguishing factors between Adobe Photoshop and Adobe Illustrator. This part of the content will make you understand why Illustrator is more effective for certain designs and why the mathematical equations of vectors are so crucial for scaling artwork in comparison to the pixel format of Adobe Photoshop.
This Adobe Illustrator training then explains the fundamental shapes that can be transformed, arranged, divided, organized and combined to form your creative masterpieces. As you move on you will be shown how to be as precise as possible in the design process by using various guides and tools as well as new terms such as swatches, strokes, gradients, and effects, what exactly they mean and how to incorporate them into your designs. The features you have at your disposal allow you to really get the most out of the Adobe Illustrator software in addition to other important tools such as pencil, pen, paintbrush, and curvature, and you can use them to create various distortions and transformations.
The last part of this Adobe Illustrator tutorial will show you how to incorporate the different brushes to allow for more artistic representations. We will guide you through the options and how to choose the correct brush to achieve the effect you are hoping for. The Adobe certification answers many common questions and includes exercises to recap information as well as learning how to develop famous logos such as Nike and Mitsubishi. You will gain a wealth of knowledge and be able to not only design like a pro, but edit and tweak your designs to really add your own signature features and give expression to your personality. If you are hoping to study graphic design in order to get into the graphics and/or marketing industry or if you simply are creative and want to create designs as a hobby then enrolling in this exciting course will allow you to create beautiful works of art in no time.
Start Course Now