Introduction to the Electrical Trade
Learn the theories, safe practices, and procedures of the electrical trade with this free online course.
Publisher:

USAID
With this free online Introduction to the Electrical Trade course from Alison, you will learn everything you need to know to work on residential, and industrial projects as an electrician. We are incredibly dependent on electrical power, as for our everyday lives to function efficiently we need an uninterrupted supply of electricity. This makes electricians highly valued professionals. Jumpstart your electrician's career, today.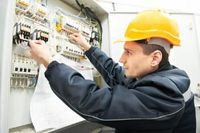 Duration

1.5-3 Hours

Accreditation

CPD
Description
This course will first introduce you to the most common occupational hazards that electricians face, including electric burns and shock. You will also look into the risks involved when working with tools and equipment, with batteries and ladders, around overhead equipment, in confined spaces, and in the absence of precautionary measures. You will then learn the importance of wearing personal protective equipment as per the demands of the job.

You will then study how electrical circuits work. The course will discuss voltage source, load, volt-ohm-milliammeter, and conductors including the roles that voltage, current, and resistance play in electrical systems. You will look into electrical theory and study electric charge as well as the movement or flow of electrons in a circuit. The course will also cover the fundamental electrical concepts such as Ohm's law and Kirchhoff's Law as well as discuss series circuits and parallel circuits.

Every electrician must possess a basic set of knowledge and skills, whether they work on residential, commercial, or industrial projects. They must also acquire strong troubleshooting skills as well as observe safe electrical practices. This Introduction to the Electrical Trade online course will teach you the theories and skills that will get your career in the electrical trade off to a great start. Check out the course today, and learning something really useful in just a few short hours.
Start Course Now