Introduction to Environmental Sustainability
Learn about the basic necessities of life, environmental sustainability, and sustainable and non-sustainable materials.
Publisher:

Walkgrove
This free online Environmental Sustainability course will teach you about the basics of environmental sustainability. Everything we do affects our environment and the people that live in it. This online course teaches about the varieties of energy and resources found around the world, environmental impacts, transport, sustainable communities, globalization, and fair trade.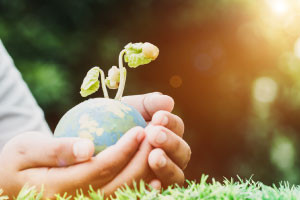 Duration

1.5-3 Hours

Accreditation

CPD
Description
This free online course will first discuss the importance of different types of natural resources. You will look into the problems caused by a lack of these resources and learn the impact that humans have on the planet. Then, you will learn about the different sectors of the economy, the benefits of energy efficiency and re-use, and examine the differences between recycling and compost.
Furthermore, you will learn about the impact transport has on the planet, food miles and the environmental problems caused by transporting goods over long distances. Next, you will study the sustainable methods of transport, the things that make up a sustainable community, and examples of globalization. Global trades and the problems global trade has for the developing world, such as child labor, will also be discussed.
There are now 7.5 billion people living on earth and by 2050, there will be an estimated nine billion. It is therefore important that we live in a more sustainable way so that the earth can accommodate its future generations. Upon the completion of this online course, you will be able to identify the difference between sustainable and non-sustainable materials, know the meaning of eco-footprints and carbon footprints, and understand the human impact on the environment. Enroll in this online course today to improve your knowledge on environmental sustainability.
Start Course Now