Introduction to Change Management
Learn about key concepts and practices involved in organisational change - people, ideas and strategies.
Publisher:

Saylor Academy
Alison's free online Change Management course introduces the key concepts and practices involved in an organisational change including people, ideas, and strategies. With this course, you will learn how to build an effective change strategy around increased competition and technological advancements. It will also help you play an effective role within an organization that is going through a period of change and adjustment.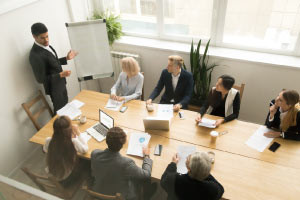 Duration

1.5-3 Hours

Accreditation

CPD
Description
In this course, you will learn about change in organisations. Types of organisational change include: Process changes; Re-structuring; Culture change and Systems implementation. The success of any change initiative depends on the ability of the people involved to accept and embrace the desired change. Change can be disorienting, creating stress and anxiety for people and many people's first reaction is to try to avoid the change. Others will actively resist change through tactics such as negativity, destructive criticism and even sabotage.
You will learn how leaders in organisations can work with others, to enable them to effectively transition through organisational change. You will see how a communication strategy helps to guide communication activities through the change process and ensures that all stakeholders are actively engaged. Different communication channels (Intranet, Print and Face-to-face) are used. Organizational change is a process that is facilitated by planning and analysis, but it is also influenced by serendipity and chance. You will be able to distinguish between planned, emergent, episodic and continuous forms of organizational change.
This free Change Management course will be of great interest to professionals looking to play a prominent role in change management processes. The course will also be of interest to small business owners who want to learn more about guiding their employees through a period of change. Change is a constant feature of business. This means that the skills you will learn in this course will undoubtedly come in handy sooner or later. So why wait? Start the course now. and become the professional your organization is looking for.
Start Course Now