Introduction to Online Marketing Strategies
Learn about the marketing strategies you can use to promote any business and avoid pitfalls in this free online course.
Publisher:

Stone River eLearning
The function of marketing ensures that your business is able to connect to customers through promotion on various platforms. This introductory marketing course will teach you the various techniques and methods to help you promote your organization as well as explain the fundamentals of marketing including what marketing really is, how marketing is different from advertising and gives an overview of many sub-fields in marketing.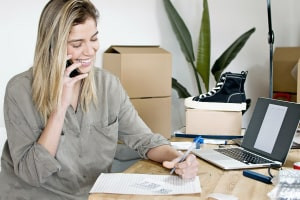 Duration

5-6 Hours

Accreditation

CPD
Description
This free online Introduction to Online Marketing Strategies course offers you a step-by-step guide to basic marketing strategies and importantly, how to avoid many potentially costly pitfalls that new marketers or business owners typically make. Marketing is a crucial function for all businesses and is becoming increasingly important for success in the modern global economy. This digital marketing course, regardless of your industry background, will teach you about core concepts and tools to help you better understand marketing. Key topics include Market Research and its importance to broader strategy, brand strategy, pricing, integrated marketing communication, social media strategy, and more. The marketing course covers a wide array of issues and concepts that you will face when venturing into marketing as well as the theory behind what marketing is, the key differences between marketing and advertising and which critical components need to form part of a marketing campaign.
The following key themes covered are the economic roots of marketing and how it helps in predicting and strategizing about market situations, and the role marketing plays in business growth. This growth topic is further discussed in the next section which is all about target audiences and how to manage resources such as IT in order to reach the right audiences at the lowest cost. You will learn how to identify your customers and target market which will help you to effectively run your marketing operation along with the basic marketing principles and how they can be effectively applied in the real world. These basic principles are applied in marketing plans and strategy and this marketing course will teach you the ways in which you can create these from scratch, how companies erroneously treat marketing functions and what to do about this as a marketing professional. Marketing is critical for growth and search engine marketing is an extremely important component of a marketing plan. Effective digital marketing can help you reach audiences that you otherwise would never connect with and provides you with detailed analytics that shows how well your marketing efforts are working. You will learn all about basic search engine optimization, how to optimize website content and the various related marketing topics such as Google Analytics, offline marketing, social media, and the customer development methodology. 
The principles of marketing have many broad applications and can be used across many business functions that don't necessarily include marketing at all! If you are considering a career in marketing as a student, a working professional looking for an exciting career change or if you are already in marketing but hoping to bolster your skills by completing a marketing certification, then enrolling in this free online marketing course is exactly where you should start.
Start Course Now