English Grammar and Vocabulary - The Media (Advanced Level)
Expand your English vocabulary for films, television, and newspapers with this free online English course.
Publisher:

Advance Learning
This free online English grammar and vocabulary course teaches you about discussing the media. In this course you will learn new vocabulary and adjectives for describing television programmes, newspapers, and other types of communication tools. You will also study common expressions used by film reviewers, the passive form of English sentences, the passive reporting structures that are commonly used in English news reports, and more!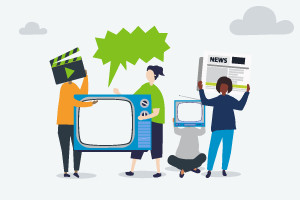 Duration

1.5-3 Hours

Accreditation

CPD
Description
This course will first introduce you to English vocabulary related to watching media, such as 'to stream' which means to watch a movie online, and 'binge-watch' which means to watch many episodes of a tv programme at once. You will then look at English for news and learn about 'headlines' which means the most important news stories on a particular day and 'editorial' which is an opinion piece written by a newspaper editor.

You will then study the passive form of sentences and practice using the verb 'to be + past participle'. You will learn how to use the passive form with the preposition "by", as well as when to use the passive form. You will also learn when to use the infinitive and how to form the perfect infinitive by using 'have + past participle'. The course will then teach you how to structure passive reporting in English.

There is always something new to talk about in the media, so by taking this course you will improve your English conversational ability immensely. This course also contains collocations and common English phrases that will really help you sound more like a native English speaker. By the time you have finished the course your English will be at a new level, so get started today and gain some new English skills in no time at all!
Start Course Now