How to Draw 101
Discover how to create lifelike drawings in this free online course with portrait artist Ethan Moran.
Publisher:

Ethan Moran
These free online art lessons will equip the learner with a multitude of tips and techniques for creating realistic drawings. Ethan Moran, a commission portrait artist from Ireland, shares tips on everything from the best raw materials to use through to using the principles of art such as proportion, perspective and depth to bring your pictures to life. Speed-drawings help to illustrate the lessons in this easy-to-follow video course.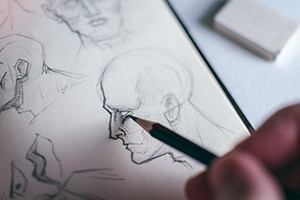 Duration

1.5-3 Hours

Accreditation

CPD
Description
Discover the satisfaction of rendering a true likeness on paper in these free online art classes. Our tutor, Ethan Moran is a professional portrait artist who has acquired many skills and much knowledge as he has honed his craft over the years. He shares these through short, easy-to-follow video lessons which include many fascinating speed-drawings. A craftsman is only as good as his materials and so Ethan begins the course by illustrating the merits of different types of pencil and the methods of gripping them, followed by types of sharpeners, erasers and that all-important paper.
In module two, the focus switches to drawing techniques, beginning with lines and outlines. Ethan covers some of the principles of art including proportions, perspective and creating depth. He teaches a range of methods for achieving the correct proportions, such as the square and triangular grid techniques. A key aspect of drawing for a realistic effect is creating a sense of depth and the course looks at light sources and the shadows they make as one tool at the artist's disposal. Ethan also introduces the rules of perspective, i.e. objects that are nearer should appear bigger and lighter than those that are further away. The method of shading also impacts on the finished result and the course progresses to a number of techniques the artist can use, from hatching through to the dusty beauty of graphite before moving on to blending techniques. The final module deals with drawing the human face and Ethan covers this topic feature by feature. He illustrates precisely how to get the best results when drawing eyes, lips, noses and finally hair, using speed-drawing videos to great effect.
For anyone interested in learning how to draw properly, these art lessons provide an easy and engaging place to start. You don't need to have any prior knowledge or indeed, amazing talent, to benefit from the tuition. Ethan Moran is a commission portrait artist based in Galway, Ireland. He has been drawing portraits since the age of 13 and divides his time between his art and teaching children to draw and paint through a youth organisation. His passion for sharing a love of drawing is matched by his belief that others can master these skills and become better artists than they imagine, and more quickly than they would believe possible. Along with acquiring new techniques, you can gain certification on passing the end-of-course assessment. Begin the course and discover how relaxing, absorbing and rewarding drawing can be!
Start Course Now