Food Safety and Hygiene
This free online course teaches good food safety practices and shows you how to professionally manage a catering area.
Publisher:

Alpha Academy
Food contamination could lead to unpleasant outcomes ranging from severe illness to loss of business for a catering outfit or restaurant. Food procurement, handling, processing and storage must be carried out with the utmost care to prevent contamination and spoilage of food. This course explains food contamination in detail and covers the measures, tools and regulations for safely handling food and managing a hygienic cooking area.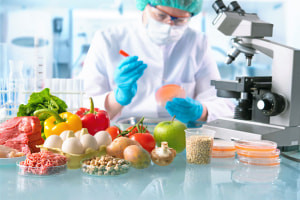 Duration

1.5-3 Hours

Accreditation

CPD
Description
Any organization that handles or processes food, like restaurants and catering outfits, bears a profound responsibility to ensure that food remains free of contamination. Food poisoning, a consequence of food contamination, can lead to severe illness and even death so measures and regulations are required to ensure that food is prepared under hygienic conditions and kept safe. This course exposes you to the important business of keeping food and cooking spaces healthy. We provide an in-depth look at food safety and explain how a food supervisor ensures it.
The course then takes you through the food safety management system (FSMS) and 'hazard analysis critical control point' (HACCP), an internationally recognized method for managing food safety-related risks. We show you how to implement procedures to ensure that you maintain food and cooking spaces to the highest safety standard. You will also learn about food poisoning and methods for detecting and preventing various kinds of food contamination. We go through the risks and standard practices in food handling to ensure that you keep food in pristine condition at all times.
The course demonstrates the importance of temperature control for food safety and provides techniques and tools for monitoring food temperature. You will also learn to prevent food spoilage, manage pests and design functional catering premises. Finally, we establish the importance of training food handlers and educating them on food safety. This course is especially helpful to restaurant owners and kitchen staff but suits anyone who handles food. Sign up to learn how to professionally manage food and cooking areas in under three hours.
Start Course Now