Essential Management Skills for the Workplace - Revised
Learn about key time and change management skills to make you a better manager with this management skills course.
Publisher:

Walkgrove
This free online Essential Management Skills course will guide you along the path of becoming a better manager and leader. You will learn about the qualities of assertiveness and emotional intelligence, effective task prioritisation, increasing motivation, and developing real and virtual teams. It also covers change management and workplace bargaining practices. Showcase your potential at work with this free online course.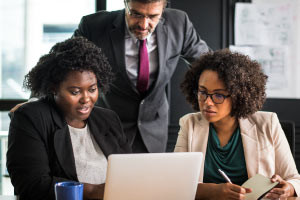 Duration

1.5-3 Hours

Accreditation

CPD
Description
The Essential Management Skills for the Workplace course will introduce you to very important workplace skills that will help you be a more effective and successful manager.
Firstly, it explains the aspects of change management and how to implement change within a business or organization. Then, you will learn about bargaining and the strategies to increase your bargaining power. You will learn about the five qualities that all workplace objectives should have and how they should be SMART - Specific, Measurable, Attainable, Relevant and Time-bound. You will learn about assertiveness and how assertive behavior is the emotionally intelligent mid-point on a scale which starts with passive at one end and leads to aggressive at the other. You will also learn how to reflect an inner confidence outwardly by being serious about your appearance, making eye contact with the other person, and controlling your hands, feet and facial expressions.
Also, you will learn how to prioritize tasks into important tasks and urgent tasks and about the four Cs of motivation in the workplace - Contribution, Cohesion, Compensation and Comfort. You will learn about the stages of development that all teams go through, from the forming stage where team members get to know each other right through to the adjourning stage (wrapping up the task and breaking up the team).
Finally, you will be introduced to virtual teams which are a group of people who work together across time and space; their links strengthened by use of electronic communication technology. You will learn about the benefits of virtual teams for both employers and employees.
This course will be of great interest to existing junior managers or those wishing to move into the managerial level and who would like to develop core managerial skills. It will also be of interest to learners who would like to develop managerial skills needed for advancement within any business or organization.
Start Course Now