English Course - Expressions (Upper-Intermediate Level)
Learn how to use expressions and descriptive phrases in no time at all with this free online English course.
Publisher:

Advance Learning
This free online English language course will teach you useful words and phrases which you can use to describe yourself and others. This course will also teach you about the difference between active and passive sentences, verb forms, how verb forms can change the roles of the subject and object in a sentence, and about making complaints in English. This series of courses uses simple, easy to understand examples to speed up language acquisition.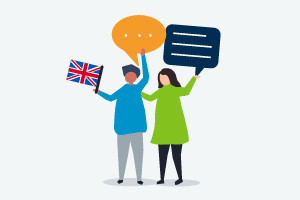 Duration

1.5-3 Hours

Accreditation

CPD
Description
This course will first teach you useful English phrases that will help you describe yourself and other people. The course will cover the active and passive sentences and teach you how to form active sentences where the subject is the person who carries out the action. You will also learn that in a passive sentence, the agent or the doer of the action is not visible.

You will then study the correct use of 'get' and 'have'. You will learn that you use 'get + past participle' to talk about things that are unpleasant or that happen by accident such as 'I got drunk at my friend's party'. You will also study a number of sentences using active and passive verb forms, which will help familiarize you with the usage of these forms. Finally, you will learn the different meanings and uses of the word 'mind'.

With the phrases taught in this free online English course you will learn how to describe things much more accurately. By the end of the course you will have learned the correct usage of verb forms and pronouns as well as the role of subjects, objects, and agents in active and passive sentences. This online course is designed for the upper-intermediate level English learners who want to enhance their English skills for personal and professional advancement. Check out the course, and start learning, today.
Start Course Now